Affiliate Success Page




Thank you for signing up for my affiliate program. Below you can find sample affiliate links that we will use to track visitors that you refer to my site.

I am going to work with you to ensure that this is successful for both of us. Success is easy if you follow certain steps.

The first step I would take is to learn how to maximize your affiliate income with this or any other affiliate program.

Here's the fastest way I know to get you up to speed on how to make good money. It's Ken Evoy's free five-day "Affiliate Masters" e-mail course.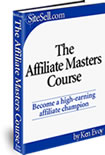 If you want to become a high earning affiliate, you need this course



Just scroll down the page and look on the left hand side, where it says Sitesell University

It really is an incredible course, and best of all, it's free! It will show you exactly how to set up your affiliate program so that it works and makes money.

If you only read one thing, please make it this Affiliate Masters Course!



Tips for Success:



1. Make a signature file on your outgoing email containing your link to my site so when you send an email, you could also earn a commission in the process!

=========EXAMPLE=====================
Visit http://hop.clickbank.net/?NICKNAME/lebrunfit
to get tips and tools about bodybuilding and fitness.
==========END========================


Then when you send email to friends, family, clients, and coworkers, you generate exposure to potential referrals.

2. Place text links anywhere on your web pages that you feel is a good segway for them. Text links have proven to produce a higher click-thru than regular animated text or photo banners.

Text links are even more successful if you personally recommend the link. Your visitors are your visitors --they trust you. I have found writing articles with your own content and then leading into my affiliate link works well.

Please, please, please do not use banners, they are cheesy for the most part and have been proven that MOST people do not click on them!

I know I don't! That's why I do not have banners here to use, they don't work. Period.



Use these covers on your site and link your affiliate link to it!






Feel free to use any of the above text links or you can simply design your own.

Make sure that your Clickbank nickname is correct when designing your link so that you receive credit for the sale!

You are now ready to start making money by selling my instant ebook "Simple Steps to Get Huge and Shredded."

This book is very affordably priced so volume orders are not unusual.

If at any point I can assist you in your marketing efforts, please feel free to email me at [email protected]

Again, welcome aboard and thank you for helping me help many others with their bodybuilding and fitness goals.

Here is to your success!

Sincerely

Shawn C. LeBrun
Owner
ShawnLebrunFitness.com




Shawn LeBrun Fitness:
18 Whitney Ave
Portland, ME 04102
Email Shawn at

[email protected]



All information on this site is protected by
Copyright(c)Shawn LeBrun Fitness 2002-2003, All Rights Reserved